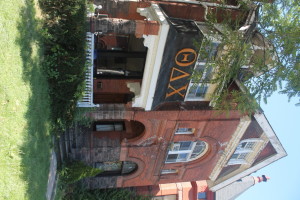 Welcome to Theta Delta Chi at the University of Toronto at 22 Madison Avenue.
Our charge Lambda Deuteron has been in Toronto since 1912 and is part of the international fraternity Theta Delta Chi. Founded in 1847, the fraternity has over 24,000 active members and is an option for students at U of T to consider. There are many reasons to consider and join a fraternity and they're a lot more than those stereotypes portrayed in the movies.
The best way to summarize fraternity life at U of T is family. You can join a fraternity that treats you as family, and that's the reason why we call each other brother. Joining a fraternity opens up networking opportunities but at Theta Delta Chi, we offer so much more than that. It is the bonds of brotherhood for life that keep the young men who graduated decades ago, meeting and reminiscing with those currently in their studies, even 50 or 60 years later.
Come by the charge house at 22 Madison Avenue to meet us and learn more about our history and fraternity.